Work Accidents
Your immediate concern if you have been involved in an accident at work may be: "If I make a claim will I lose my job?".
The answer to this is: "No" – all employers are required by law to have insurance in place to pay any compensation.
If you were subsequently dismissed as a direct result of making a claim for compensation for injuries, you would have another legitimate claim.
What sorts of accidents at work is it possible to claim for?
Factory accident claims
Fall at work claims (e.g. poor lighting leading to a fall on stairs)
Fish farm accident claims
Forklift accident claims
Hotel work accident claims and kitchen accidents
Office accident claims (e.g defective office equipment including collapsing chairs and malfunctioning machinery; cluttered offices leading to injury (cables on floors and loose wires)
Slips and trips at work
Supermarket work accident claims
What should you do first?
The first step is to make sure you obtain early legal advice.
Often, crucial evidence can be lost from the scene of the accident if urgent action is not taken.
If possible, take photographs of the scene of the accident.
Make sure the accident is entered into the accident book at your place of work (and if you are no longer at work ask a colleague to  make sure that this happens).
Your employer has a duty to record the facts of the accident.
Intimation of claim and investigation by insurers
We will first make contact with your employer who will then pass the letter of claim to their insurance company.
The insurer will then investigate the facts of the accident to see whether they should accept responsibility for your accident on your employer's behalf.
Three months or so to investigate your claim
The insurance company generally has three months to investigate the accident before they must inform us whether they accept or dispute the claim.
Even if they state that they dispute it at that stage, in most cases we take on, settlement will be agreed at a later date once they have carried out further enquiries.
Gathering evidence to back up your claim
To succeed with a claim for compensation for a work accident, we will have to establish that your employer failed in their duty of care to protect you whilst you were at work.
We will obtain statements from other employees and use photographic evidence to prove this.
We will also investigate any earlier examples of similar accidents.
Medical evidence
In addition to evidence to prove that your employer has caused the accident, we will get medical evidence to confirm that the accident led to the injuries you sustained.
This evidence may be from a General Practitioner but, in cases of more serious injury (which is most cases), will be from a suitable hospital consultant.
What makes up your claim
In addition to your claim for injuries, you can also claim for other incidental expenses including:
Earnings lost as a result of your inability to work
Private medical treatment for your injuries
Travel costs (to treatment etc)
Any other losses or expenses you have incurred that were caused by the accident
Settling your claim
When all evidence has been obtained and your medical condition has stabilised, we will look to settle your claim for you.
We will seek offers in settlement from the insurance company and most of the time a negotiated settlement will be achieved without the need for a court hearing.
Even if a court hearing date is fixed, the majority of work accident claims will settle before the date of the hearing.
What our clients say
"I fell through a roof on which I was working in Elgin and suffered fractures to both my legs as a result. Initially, I had no plans to make a claim. However, when my employers stopped paying my wages and sick pay without any notification to me, I had to do something to get some money. I found dealing with Grigor & Young straightforward. From the first meeting until the last, I always felt at ease. The support staff were also very pleasant and efficient. Everyone is very friendly to deal with. I would definitely recommend Grigor & Young's personal injury claims services to others – you take all the hassle away from the client. Words could not express how grateful I am for all the help I received. I received 100% of the compensation agreed with the insurance company, without any deductions for legal fees or other 'hidden' costs."
WS, Elgin
Contact us for help
Grigor & Young have specialist work accident claims solicitors waiting to help you.
Our Elgin branch has corporate accreditation from the Association of Personal Injury Lawyers (APIL). Marie Morrison and Peter Brash are accredited by APIL as Senior Litigators. Peter is also accredited by the Law Society of Scotland as a Specialist in Personal Injury Law.

We will provide free initial advice, without obligation.  In many personal injury claim situations, the advice we provide is free of charge throughout the whole matter. See our Moray Claims website for this article explaining how it is possible for your solicitor to receive a fee for their work without having to charge anything to you directly.
For further information and a free initial chat, contact Peter Brash or Marie Morrison on 01343 544077 or complete and send us a FREE, no-obligation Online Enquiry.
Note that there is more information about the above matters to be found on our Moray Claims website.
Make A Free Online Enquiry Now
Free Accidents at Work eBook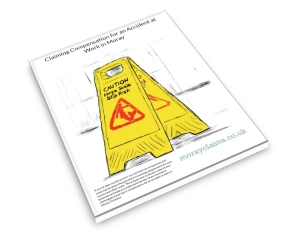 Our 12-page eBook – Claiming for an Accident at Work Injury in Moray – is available to download from this website. For further information, please see the details on this page.