Accidents and Injuries
If you have been involved in an accident that you feel was the fault of another individual or organisation, you may be able to claim compensation under the law for the injuries and other losses (for example wage loss) you have suffered. This includes road traffic accidents, accidents at work and slips and trips.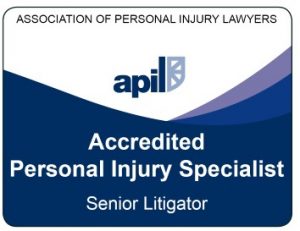 Our team has considerable experience in dealing with all types of accidents and injuries. Peter Brash is accredited by the Law Society of Scotland as a Specialist in Personal Injury Law.
Peter and his colleague, Marie Morrison, are members of the Association of Personal Injury Lawyers (APIL) and both are accredited by APIL as Senior Litigators.
We have far more expertise in personal injury law than you might expect for a small, rural firm of solicitors.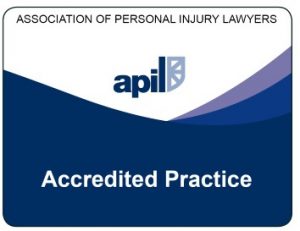 Having two solicitors within one office with a recognised expertise in personal injury compensation claims makes Grigor & Young unique in Moray.  Between them, Peter and Marie have over 50 years' personal injury experience.
The Elgin Office of Grigor & Young has Corporate Accreditation from APIL, a status which only a few solicitors' offices in Scotland have achieved.
How we can help you
We can help you by:
Identifying the basis of a claim in any given accident or injury scenario
Identifying the possible organisation or person against whom a claim can be made
Identifying the possible methods of funding a claim, including legal aid and 'no win – no fee'
Advising on the likelihood of success and the potential amount of compensation
Negotiating with insurance companies and raising court proceedings if necessary
For further information and a free initial discussion of the accident circumstances, prospects of success and funding possibilities, contact Peter Brash or Marie Morrison on 01343 544077 or complete and send us a FREE  no-obligation online enquiry.
Moray Claims
There is a considerable amount of additional information on our separate Personal Injury Claims website, Moray Claims.
You can search the Moray Claims website from the right hand sidebar on all pages. Moray Claims has over 250 blog articles on different aspects of personal injury claims. Our aim is to help people in Moray to claim fair and full compensation for personal injury – to enable you to move on with your life as quickly and as smoothly as possible. We also aim to do this in a way which costs you nothing – whether your claim ultimately succeeds or not.
The Moray Claims website also has a podcast about personal injury claim issues which are relevant to injury victims.
The problem with many personal injury claims is that you lose about 25% of your compensation if you're successful. At Moray Claims at Grigor & Young we aim to provide local specialist advice in such a way that your personal injury claim costs you nothing whether you "win" or "lose".