Why Choose Us?
If you need to make a Personal Injury claim for compensation for your pain and suffering and other losses, as a result of an accident, here are the main things we think you need:
A solicitor who will not only maximise the value of your compensation but also take as little as possible (preferably, nothing) from your financial settlement in order to pay legal fees and /or insurance costs ("the hidden cost").
Not just "any" solicitor but someone with both experience in Personal Injury Law and Accredited Expertise in that area.
A solicitor who is local to you so you can contact them easily and meet them face-to-face, if you want to do so.
How we fit these credentials
If you give your personal injury claim to a large, national law firm, the chances are you will end up losing something like 20% of your compensation to pay for legal fees and / or insurance costs on successful completion of the claim.
If you are local to Moray or your accident happened in Moray, we can probably deal with your claim in a way which means you will get to keep all your compensation, without any deductions.
This is partly because of the third of the three reasons given above. In other words, where we are local to you, there are several economic and other benefits to us which mean it is financially viable for us to offer a "free" service in most cases.
Personal Injury claims can be complex and, at times, you may have to make difficult decisions about your claim. A further benefit of us being local to you is that, if you can sit with your solicitor to discuss your claim, it is easier and less stressful than doing it by phone or email.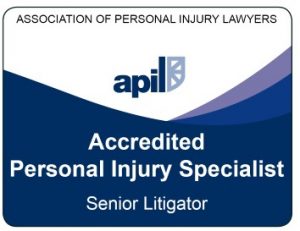 Peter Brash, one of our solicitors, is accredited by the Law Society of Scotland as a Specialist in Personal Injury Law. Both Peter and his colleague, Marie Morrison, are members of the Association of Personal Injury Lawyers (APIL) and Accredited by APIL as Senior Litigators.
The Elgin branch of Grigor & Young has Corporate Accreditation from APIL – one of fewer than 10 firms in Scotland to have met that benchmark.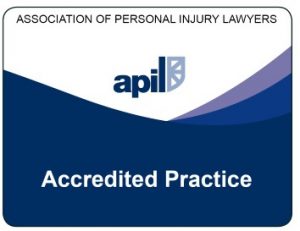 If you entrust us with your Personal Injury claim at Grigor & Young LLP, we will do our best to maximise your compensation.
You also have the reassurance of knowing in addition that you will probably lose none of your money to pay for any other costs, such as legal fees or insurance costs. (If you wonder how that is possible, please see this article on our Moray Claims website – How does your personal injury solicitor make money if they do not charge you anything?)
How we can help you
If you have any questions about the information on this page or a particular enquiry, please feel free to get in touch with us.
All initial enquiries are free of charge and without obligation to take things any further.
The way that Personal Injury claims work in practice can be confusing and it can help to talk things through to make sure you understand clearly all the important factors which should affect your decision on how to go about making a claim.
Solicitors have a duty to act in the best interests of clients and potential clients and we readily accept that our services are not a "best fit" for everyone. If we don't think we are best placed to handle your claim for you – for whatever reason – we will tell you and we will discuss with you what is your best way forward.
If we are not the ideally placed to help you in your situation, we can probably recommend someone else to approach who will fit the bill.
How to get in touch with us
Peter Brash and Marie Morrison can be contacted via 01343 544077 or you can complete and send us a Free Online Enquiry.