Claiming for an Accident at Work Injury in Moray
If you've been injured at work, you may have certain questions in mind regarding your employer's responsibilities.
For example –
Should you consider making a claim for compensation?
If so, how should you go about doing that?
Our eBook – Claiming Compensation for an Accident at Work in Moray – may be what you need to give you some initial information and guidance.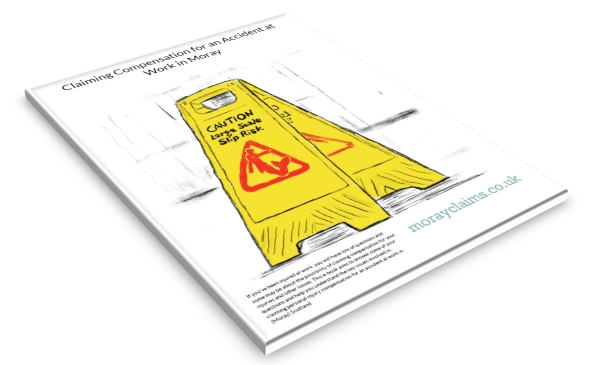 The (PDF) book is 1.4MB in size and runs to 12 pages.
Though this is an overview of the most important aspects of accidents at work, it contains several hyperlinks to more detailed articles and resources which will enable you to look deeper into particular areas, if you need to do so.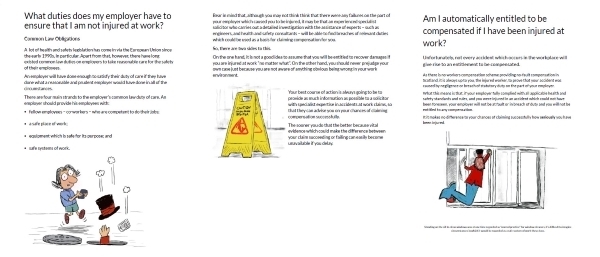 By signing up to get a free copy of the eBook delivered to your inbox, we'll also follow-up with a series of helpful, educational emails.
These will go into more depth about the way personal injury claims work and things you need to look out for.
Topics covered in the emails include:
Should you be worried that your employer might take action against you, if you make a claim for personal injury compensation?
How long will it take to complete the claims process?
Do you need a solicitor to help you with a claim at all?
There's no hard sell.
It's all about making sure you know what your rights are, so you can make an informed choice about whether making a claim for personal injury compensation is the right thing for you.
You can unsubscribe from the emails at any time, as each email has an unsubscribe link at the end of it.
Get a Free Copy of our Workplace Accidents Guide

Claiming Compensation for an Accident at Work in Moray – Enter Your Details Below and Get Your Free Copy Today:
Here's how the process works…
After you fill in your details above and send the form, within a few minutes, you'll get one of those annoying "confirmation" emails in your inbox.
I'm afraid you'll have to click on the link in it to confirm that you requested our free guide.
Yes, I know they're really annoying. But we chose this "double opt-in" to protect your privacy and to ensure that you only get e-mails from us if you want to get emails from us. We hate spam as much as we are sure you do.
Please click the link in the confirmation email from us, when it arrives. If you don't, it means we can't (not won't, can't) give you access to the content you've requested.
On the other hand, if all you see in your inbox is a mountain of emails and none with a link to click to complete your registration, be sure to email me right away at peter@grigor-young.co.uk. I'll respond quickly and get things sorted out for you.
I hope you find the guide useful and informative – and that the follow-up email sequence increases the value you get from it all.
Please let me know what you think. I would really appreciate your feedback.
Best wishes,
Peter Brash | Grigor & Young LLP and Moray Claims