Donald Trump's tweet of the year for 2018 may date from as early as 02 January 2018, according to some commentators.
"Since taking office I have been very strict on Commercial Aviation," the president explained. "Good news—it was just reported that there were Zero deaths in 2017, the best and safest year on record!"
As U.S. late night TV host, Jimmy Kimmel, pointed out, while the president's comments were true, it was also the case that several previous years had had no commercial aviation fatalities too. In fact, the last recorded death was in 2009.
Others were quick to chip in on Twitter to point out the absurdity of the president's claims: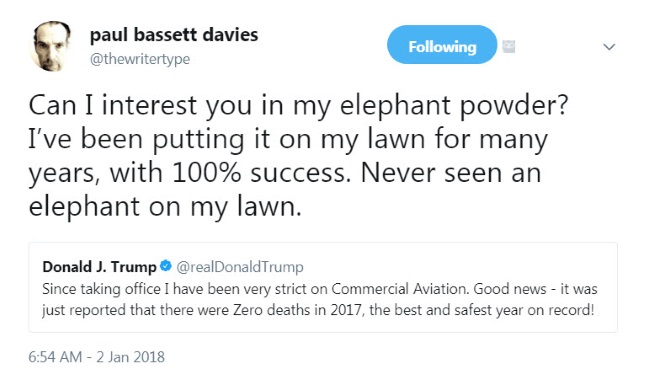 In Jimmy Kimmel's words: "Thank you, President Trump, for being so effective that you actually went back in time to improve my safety!"
The president was claiming to have helped improve aviation safety when in fact it's unlikely that anything he had done had made any difference. If you get in touch with a solicitor, you would hope not to get help as useless as the "elephant powder" for keeping elephants off your lawn, referred to in the pictured tweet. On the other hand, it can be difficult to know when is the best time to contact a solicitor and this is a public information problem which the Law Society of Scotland (LSS) seeks to address.
From October 2017, LSS has launched a consumer-focused marketing campaign to promote the work of Scottish solicitors.
It highlights some of the most common situations in which you can benefit from help from a solicitor.
In this article, we will go through the 6 advertisements which are being used – both in print and digital formats – in the promotion. These will provide examples of when is the best time to contact a solicitor for help, in the sense of the type of legal matter. We will then go on to look more generally at the question when you should contact a solicitor if you have the type of legal matter where solicitor assistance is a good idea. Finally, we will look at how you can go about finding a solicitor who is best-suited to your needs.
1. The six advertisements
There's one advert which does not specify any particular area of law. We'll look at that one last.
As a whole, the adverts could be classed as promoting services from solicitors which are either "getting your affairs an order before an important or life-changing event" or reacting to some sort of "bad" event in your life where you need a solicitor to help you sort things out and get them back in order. No one ever wants to have to make a "distress purchase" of legal services but some areas of a solicitor's work – notably court work – are in that category.
"We need a solicitor to help us buy a new home"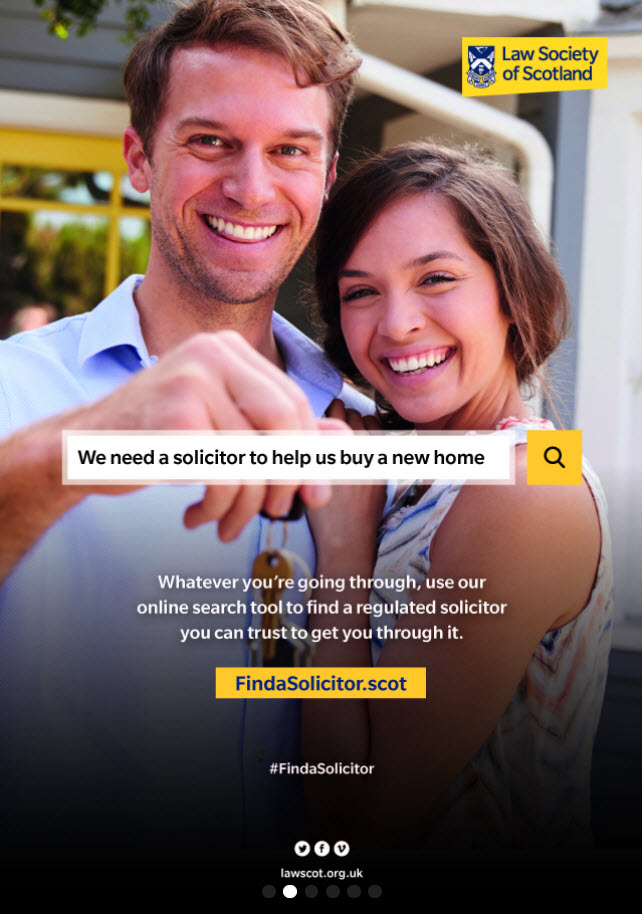 Buying and selling property is possibly what solicitors are best known for in Scotland. Certainly, we regularly hear comments from people who thought we "only deal with estate agency" and did not know about the wider range of services we and many other solicitors provide.
For many solicitors practices, this type of work – residential conveyancing – sits at the heart of their business.
"I need some legal advice for my business"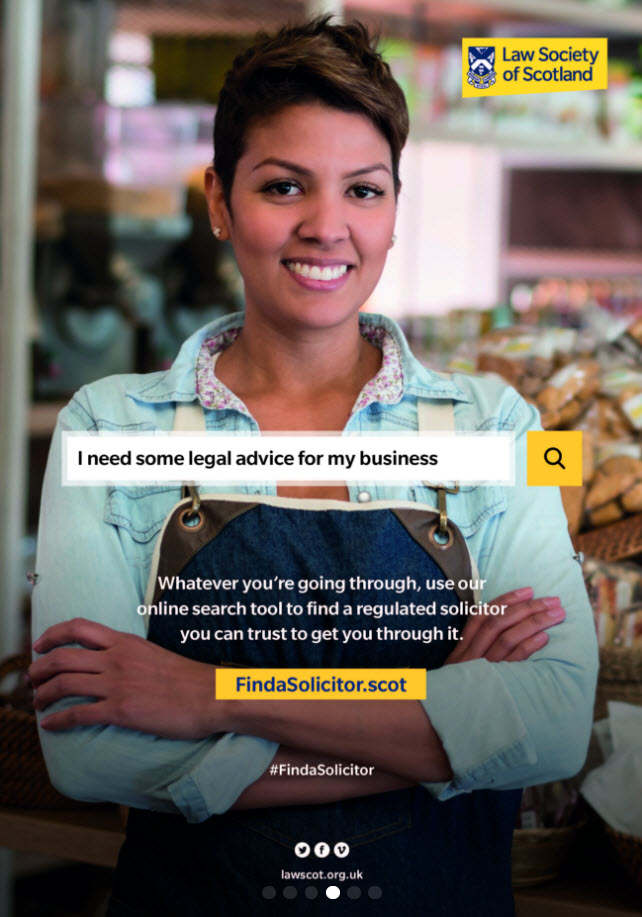 There are many different aspects to law and business. You may need advice on the best form for your business to take – for example, whether you should incorporate it as a limited company.
Alternatively, you may need advice on aspects of employment law, such as contracts of employment for your employees or the various policies and procedures every well-run business should have (e.g. Disciplinary; Absence; Health & Safety; Social Media).
"I need a solicitor to help me make a will"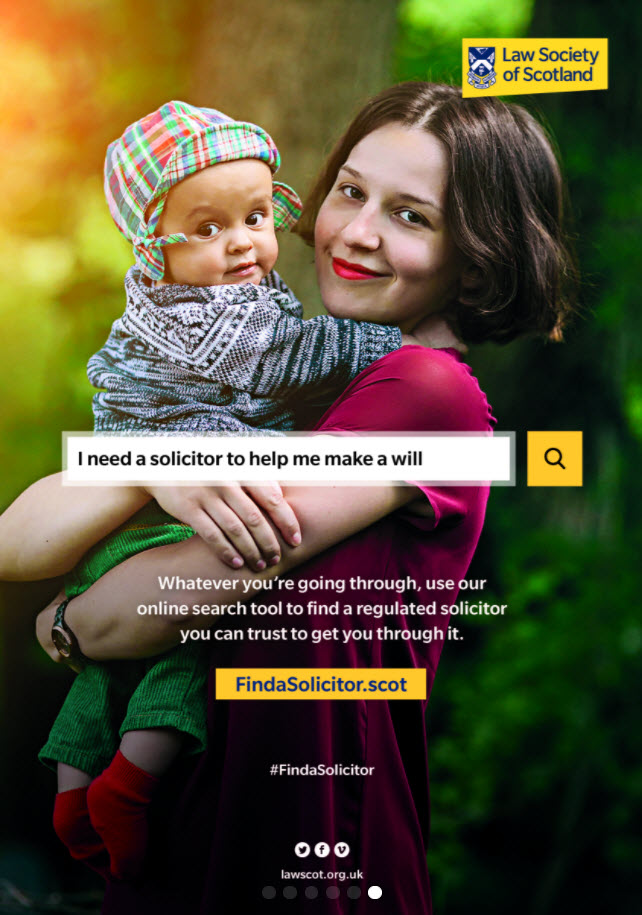 Wills are not just for older people, as the image suggests. As soon as you have any family of your own, you should be considering making a will.
You can find out more information about why making a will makes sense, elsewhere on our website.
"I need to arrange a power of attorney"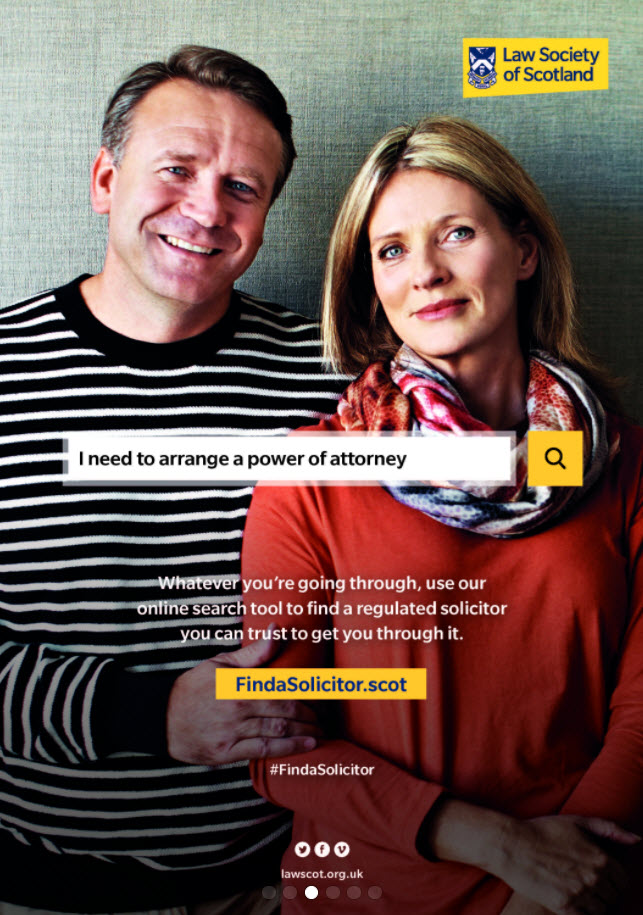 A Power of Attorney is a document which gives another person the power to make decisions and deal with your affairs on your behalf.
It's something which we recommend every adult to have. One benefit is that it covers against the risk that you become incapable of managing your own affairs, for whatever reason. Otherwise, there is increased hassle and worry for those closest to you, as they will require to apply to court for grant of the necessary powers to manage things on your behalf.
"I need to find a personal injury solicitor"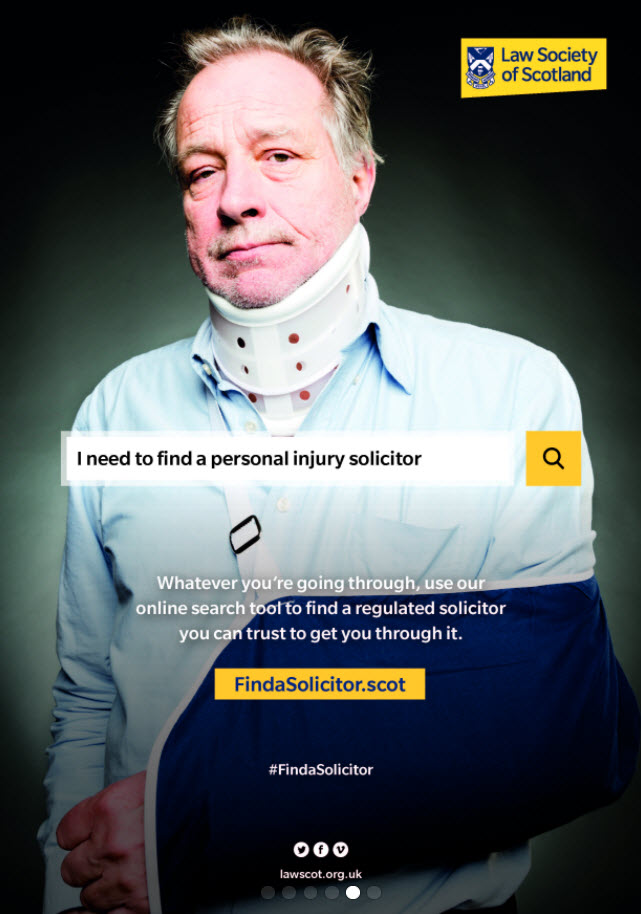 This is where the LSS marketing switches from areas where solicitors can help you better protect your own legal position – and that of your family – for the future to a classic example of a situation none of us expects or wants to be in, namely, injured as the result of an accident. In this situation, the solicitor's involvement is aimed at getting you "back to normal" as far and as quickly as possible.
We are strong advocates of the idea that a specialist, local solicitor is your best option if you need help in the field of personal injury law.
"I'm going to need a solicitor"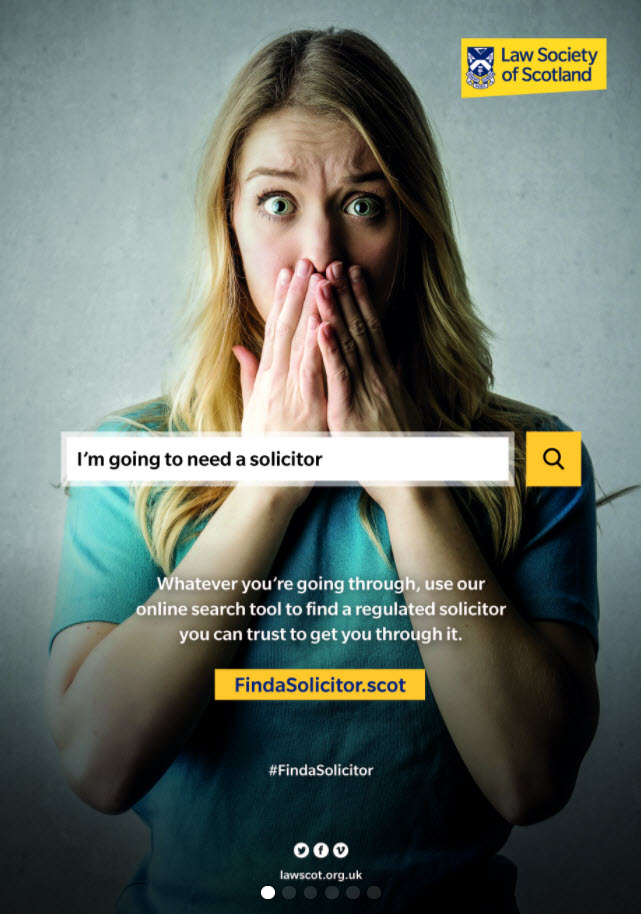 This (final) advert is a catch-all category to depict that horrible moment when you realise you're in trouble and you need help from a solicitor to protect your interests.
In all of these distressing situations, a solicitor can guide you on the best way forward.
2. If you know you need a solicitor, when is the best time to contact them?
We have an article on our Moray Claims website, in relation to personal injury claims, which explains the general principle here: it's never too early to contact a solicitor.
The reasons for this can include:
Evidence is fresh – it's easier to get hold of documents that might be relevant and people's recollections are fresher;
There's less risk of missing a time limit (e.g. most personal injury claims become time-barred after 3 years from the date of an accident, though sometimes the period is longer, sometimes shorter);
The solicitor can perhaps prevent you taking action which may seem to you to be the right thing to do but is in fact not in your longer-term interests.
The lady with the shocked expression and her hands to her mouth obviously realises she needs a solicitor in her circumstances.
The biggest risk is in those situations where you might in fact need to speak to a solicitor urgently but not realise it:
Many claims to the employment tribunal must be submitted within 3 months of the date of termination of your employment;
If an unmarried cohabitee dies without leaving a will, their surviving partner has only 6 months from date of death within which to raise a court action to claim on the deceased's estate in terms of the Family Law (Scotland) Act 2006;
Also under the 2006 legislation, if you have separated from your cohabitee, in certain circumstances, you may be able to claim financial provision from them (similar to, but less comprehensive than, financial provision on divorce) but there's a one-year time limit on that from date of separation – and, unlike a date of death, dates of separation can often be contentious.
We saw how Donald Trump was criticised for taking credit for claimed improvements in airline safety which were not real. It's understandable that many people are reluctant to contact a solicitor for fear that they may not a have a "real" legal problem.
Solicitors are used to dealing with a wide range of enquiries. In most cases, any difficulty is not that there is no legal issue; it is often that, in view of the amount of money at stake, it would not be economical to employ the services of a solicitor. The court rules place substantial restrictions on the costs / expenses which can be recovered in claims below a certain value and it may be that a particular matter has to be viewed as a "DIY" matter you will have to sort out yourself.
Solicitors generally do not charge for initial enquiries.
They need to find out the basics about the case to be able to form a view as to whether it is something with which they can help you.
As we've seen from the time limits mentioned above, it's never too early to contact your solicitor but it can be too late.
The best way to frame this section's heading is maybe not "If you know you need a solicitor" but, instead, "If you think you might need a solicitor"… get in touch with a solicitor.
It's better to find out that your request for legal advice is unnecessary (or premature) than too late!
3. How to find a solicitor
As you can see from all 6 of the promotional posters, the advice is to use the Law Society of Scotland's "Find a Solicitor" tool on their website.
This allows you to search by firm name, solicitor name, and also by area of law, among other things.  The Advanced Search feature allows you to search for solicitors with particular accredited specialisms.
You can find out more about the use of the LSS search tool and finding an appropriate specialist solicitor via this article on our website.
Summary
There are many situations in which it makes good sense to get advice from a solicitor. Some of these involve planning ahead with the solicitor's help; some involve the solicitor in trying to sort out a problem which has already arisen and needs to be fixed.
The best advice is that, if you think you might need a solicitor, get in touch as soon as possible. Your solicitor does not mind being asked about something which does not actually require his or her input. It's much more frustrating – for you and the solicitor – if you get in touch "too late" and find that possible remedies are reduced, or even extinguished, due to your delay in taking action.
The Law Society of Scotland's Find a Solicitor tool is one excellent way to locate a solicitor who is local to you and has the necessary expertise.
How we can help
If you have any questions about any matters raised in this article, please contact us for help. All initial enquiries are at no charge and without obligation to take matter further. You can phone us on 01343 544077 or send us a Free Online Enquiry.