Grigor & Young LLP has become accredited as a Living Wage Employer.
The firm's commitment to the Living Wage means that everyone working at G&Y will be paid a minimum hourly wage of £8.75, irrespective of whether they are direct employees or third-party contracted staff. This pay level compares to the statutory minimum rate for over 25s of £7.83 per hour which came into force in April 2018.
The real Living Wage is an hourly rate which is determined independently and annually updated.
The calculation is meant to take into account the real costs of living.
As Neil Ross of Grigor & Young explained: "We expect that it is only a matter of time before the real Living Wage is viewed as the basic, universal benchmark for a fair wage. We wanted to get our accreditation in place so we can show our support for this important social initiative."
Employers choose to pay the real Living Wage on a voluntary basis.
It is an initiative which has garnered cross-party political support.
Peter Kelly, Director of the Poverty Alliance, hopes that as many organisations as possible will become accredited.
As he has pointed out, there is a strong "business reputation" case for paying the Living Wage. However, more importantly, it allows those in work to become more included in society, better provide for their families, and feel that their value and hard work is recognised by their employer. He regards the real Living Wage as one of the crucial tools at our disposal to help make an impact on levels of in-work poverty in Scotland.
You can search for Scottish accredited employers on the Scottish Living Wage website.  At this point, there are 18 employers in Scotland in the legal sector with this accreditation.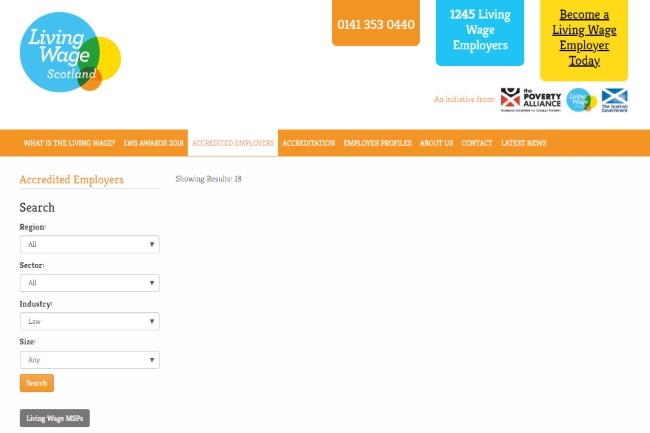 List of accredited Living Wage Employers in the legal sector in Scotland (September 2018):