Family Law Resources for Matrimonial Cases
Whether you have a Family Law matter about which you need legal advice – or maybe just because you are interested – the downloadable resources here may be helpful to you.
We need a lot of information from you up front.
When you first get in touch with a solicitor because you have separated from your spouse or partner, there is a lot of information we need from you so we can properly advise you.
It is understandable that you will be anxious to know your rights and, for example, get advice on the sort of financial settlement that may be likely for you on separation or divorce. You want to be able to plan and see the way forward more clearly.
In most cases, we cannot give you an instant 'answer' on financial issues.
We understand this can be worrying and frustrating for you.
Generally, there is a lot of information we have to gather in before we can advise you on what property there is in total (taking into account things like debts and also 'apparent' assets – which may have to be left out of account for one reason or another) and then, from there, how a court would be likely to determine the division of that property between you and your spouse / partner.
How to give yourself a head start.
By providing us with as much detailed information and vouching as possible at the start, you can help us to help you. This page contains Family Law resources for matrimonial cases.
The downloadable forms on this page cover the sorts of information we will be asking you about at a first meeting with one of our Family Law solicitors.
Download the Forms:
Spousal Aliment Form – PDF (170kB) (2 pages)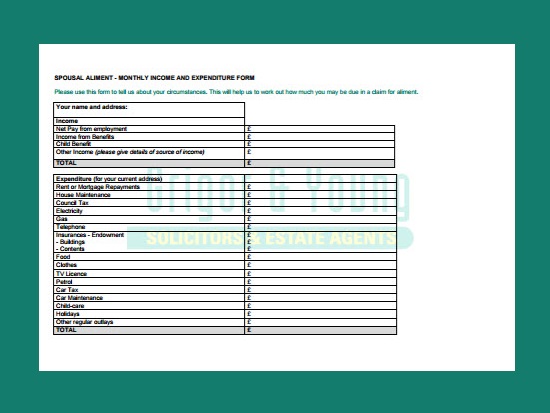 Matrimonial Property Questionnaire – PDF (342kB) (6 pages)

What are the benefits to you of gathering this information together?
Armed with this information at an early stage, potentially, we will be able to give you more reliable and concrete advice on the financial position more quickly.
More importantly, it will probably save time (for you and us) overall, thereby saving you money.
Use these downloadable forms to your advantage.
What we provide here is a Matrimonial Property Questionnaire and a Spousal Aliment (for maintenance between spouses) Form. Each can be downloaded in PDF format.
If you decide to use the forms to tell us about your circumstances, you can print them off and post / deliver them to us – or send them to us via email.
If you prefer to make contact with us first of all by other means, you can call Katie Kennedy, Greg Robertson or Peter Brash on 01343 544077 or you can send us a Free Online Enquiry. All initial enquiries are free of charge.
Once more, the links to download the Forms:
Spousal Aliment Form – PDF (170kB)
Matrimonial Property Questionnaire – PDF (342kB)