The Holiday Lettings website from TripAdvisor has published (27 November 2015) a list of the Top 12 counties in the UK for holiday lettings ratings.
Moray appears at number 3 on the list, making it the highest-ranked county in Scotland. The average rating achieved by Moray businesses in this category was 4.91 out of 5.
The first two places in the list were both taken by counties in Northern Ireland, with County Fermanagh narrowly ahead of County Down.
Other Scottish counties featuring in the Top 12 are: Perth and Kinross (7), Stirlingshire (8) and Aberdeenshire (10).
It is tight at the top of the rankings, with first place on an average rating of 4.93 and twelfth on 4.87.
Why people come to Moray on holiday
In their summary of Moray's highlights, TripAdvisor mentions the region's castles, farmland and scenery. They focus on the multitude of malt whisky distilleries on Speyside and the attraction of the Moray Firth's resident population of Bottlenose Dolphins.
They also refer to Elgin's beautiful cathedral and its museum (one of the oldest in Britain).
It is great to see Moray's tourism sector achieve such a wonderful accolade.
Elizabeth Oliver, together with her husband, Steve, has run Bluefolds Self Catering Holiday Cottages in Glenlivet in the Cairngorms National Park, Speyside, since 1999. Their TripAdvisor average rating is 5 out of 5.
The cottages are situated very close to The Glenlivet Distillery.
Giving her reaction to Moray's 3rd place in the rankings, Elizabeth said: "It is great to see Moray finally being recognised as the fantastic location that we who live here know it is!"
"Situated between the mountains of the Cairngorms and the Moray coast, the area has much to offer the visitor. Apart from our whisky distilleries and castles there is our spectacular scenery, with opportunities for walking and wildlife watching, complementing a relaxing holiday driving on quiet roads. You are also always assured a warm welcome when you visit Moray."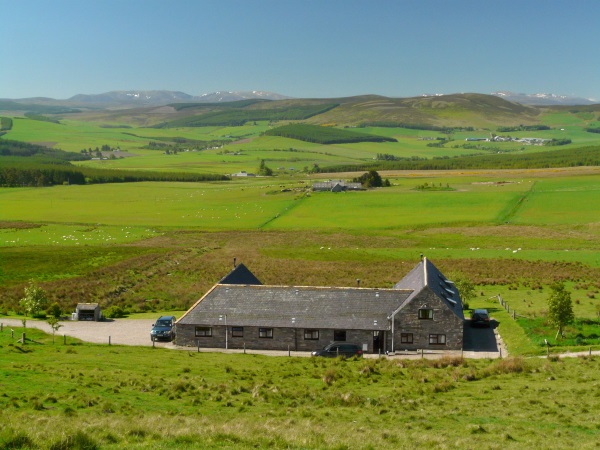 This is not the first time Moray's qualities have been recognised in a wider context. Previous recognition for Moray on the national and world stage has come, for example, via National Geographic's survey of the most scenic coastlines.
Read more about Moray, generally, on the Your Moray section of this website.
Banner image: Bottlenose Dolphins in the Moray Firth, looking south-east towards Covesea (Peter Brash)
Post header image: Winter sunset at Tormore Distillery on Speyside (Gail Johnson) via Bigstock
Bluefolds image (Elizabeth Oliver) – for more of Elizabeth's photos, see the Bluefolds website or Facebook page.