When a loved one passes away, it can feel overwhelming to know what to do next, especially when you are grieving.
The Covid-19 crisis has made such a time feel even more difficult as many organisations have changed the way that they operate. However, they are still here for you – including Grigor & Young.
We have put together a three-part series to provide support and advice, through these challenging times.
This is part one in the series. Parts 2 and 3 will shortly also be available on our website. Part 2 can be found HERE.
The First Steps
We will briefly explain the general steps to be taken after the death of a loved one so you know what to do next.
The Scottish Government has published a thorough guide which is worthwhile to read.
Not all deaths are treated the same. It depends on the individual's circumstances.
1. Contact a Funeral Director
It is a good idea to make contact with a Funeral Director. They can take the person's body into their care until funeral plans have been established
2. Obtain a Medical Certificate
More generally, a doctor will need to produce a medical certificate which determines the cause of death and this will be required to register the death.
3. Check through the deceased's paperwork
Check through their papers to look out for important documents such as a Will, informal requests of what they would like to happen after their death, funeral plans or instructions regarding organ donation.
Establishing the existence or non-existence of a Will is important as it determines the next steps regarding how a person's worldly affairs are tied up. A Will generally appoints an Executor to handle that person's affairs and instructs them on how the possessions, known as 'the estate', are to be distributed.
If you cannot find a Will, also check for any correspondence with Solicitors or Banks and ask their offices if they have stored the Will on their behalf. To uplift any Will you will need to be appointed as Executor and present them with the Death Certificate.
4. Register the Death
The death must then be registered within 8 days of date of death. To register the death, contact your local Council Registry Office. Due to Covid-19, registrars are not offering their usual face-to-face appointments. But you can still contact them by phone or email and they will assist you.
5. Arrange the Funeral
Once the Executor and any last wishes in respect of the person's funeral have been established, the funeral can be held. There may be a funeral payment plan already in place. Otherwise, the costs will be deducted from any funds they may have in their estate. If there are no funds, then the Local Authority can assist.
After the funeral, the next step will be to tie up the person's affairs.
This includes distributing any property they owned and is known as 'administering the estate'.
The way this is done depends on what is in a person's estate and whether they had a Will.
It is a good idea at this stage to contact a solicitor for guidance. However, our Infographic – at the foot of this article 0 will give you an idea of what you can expect.
How we can help.
We understand that dealing with the death of a loved one is a difficult time.
The prospect of handling these administrative tasks can be daunting.
We aim to make the process as straightforward as possible. We can assist in administering the estate on your behalf, supporting you every step of the way.
If you would like to find out more about the processes which are followed regarding dying with or without a Will, please read parts 2 and 3 in this series.
Should you have any questions about anything contained in this article or about any aspect of our services relating to administering and winding up estates, please get in touch. All initial enquiries are free of charge and without obligation. Call and speak to one of our experienced Executry team members on 01343 544077 or send us a Free Online Enquiry.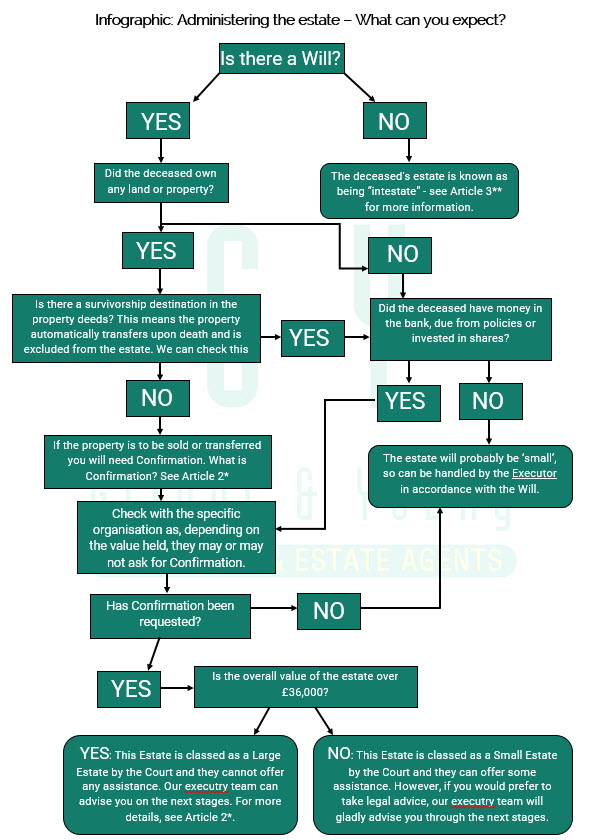 If you would like to continue your research with Part 2 in this 3-part series, please follow this link to Part 2 of the series.