NOTE: This is third article in a 3-part series about the steps you need to consider, from a legal perspective in Scotland, if a loved one has passed away. The first part is here and the second article (about what happens if someone dies with a Will in place) is here.
Although we encourage everyone to write a Will, many people die without writing one.
This is known as dying "intestate".
The process for tying up the deceased's estate is set out by the law.
An executor is appointed by the Court, this can be a solicitor or a relative of the deceased and a Bond of Caution (insurance policy) is then obtained to ensure the estate is tied up properly.
How is the Estate divided up?
It is quite commonly assumed that upon death your estate will pass onto your surviving spouse (including surviving civil partners). However, the law sets how the estate is divided up and it is not always the case that the surviving spouse inherits everything.
The best way to ensure your estate is distributed in accordance with your wishes is to write a Will.
Once any debts against your estate have been paid your estate is divided up in the following order: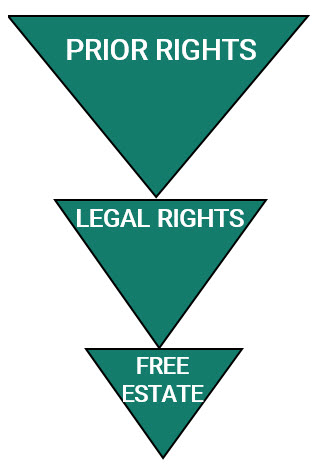 1. Prior Rights
Firstly, the surviving spouse has Prior Rights which enable them to inherit
the deceased's interest (share of ownership) in the house, if they are currently resident there, up to a value of £473,000;
furniture up to the value of £29,000 and
any money up to £50,000 (if you have children) or £89,000 (if you have no children).
Please note that, if you have separated from your spouse or civil partner but not divorced or entered into a separation agreement, they still will be entitled to these rights although they will not inherit your house if they have not been living in it.
2. Legal Rights
If there is any estate left after Prior Rights have been claimed, your spouse and/or children are entitled to Legal Rights.
If you have children your spouse will be entitled to 1/3 of your moveable estate (this is all estate minus land and property) or a 1/2 share if you had no spouse or civil partner.
3. Free Estate
What is left is known as the free estate.
This is then distributed in accordance with a hierarchy provided in the Succession Scotland Act, where parents/and or siblings may have a claim.
Dying without a Will is a bad idea for so many reasons.
If you die without leaving a Will and you have a partner to whom you are not married or in a civil partnership with, they will not be automatically entitled to any part of your estate.
If you have no Will, however, your cohabitee can apply to the court to ask them to consider a discretionary financial award under the current legislation. This is not automatic and there is no guarantee of success. Please refer to our separate article about the repercussions of there being no guarantee your loved ones will inherit if you have not written a Will.
How we can help.
The best way to ensure that your estate is distributed in accordance with your wishes and to protect the interests of your loved ones, is to write a Will.
Some pricing information about making a Will is available on our website.
For a quote or guidance regarding the next steps please give our experienced team a call on 01343 544077 or send us a Free Online Enquiry.