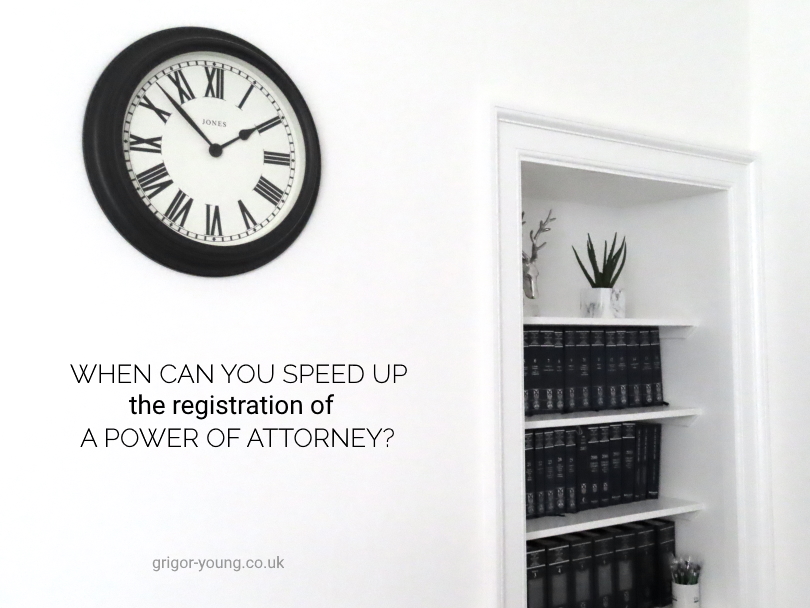 For a power of attorney to be capable of being operated by the attorney or attorneys on behalf of the adult who has granted the power of attorney, the power of attorney needs to be registered with the Office of the Public Guardian (OPG) in Falkirk.
The OPG issues a registered form of the power of attorney which has an official stamp on it.
Due to the volume of applications, there is always something of a backlog and, as at January 2021, the OPG's office was processing applications received in April 2020 (i.e. a delay of about 8 months).
It is not ideal that there should be such a delay.
This is especially true if the power of attorney needs to be operated more or less immediately.
Added to that, the circumstances of the person who granted the power of attorney may change during the delay period. They may become ill or incapacitated and that could also result in an urgent need for the powers under the power of attorney to be used.
OPG has an expedited registration service which is available for powers of attorney that need to be processed urgently.
They give a number of examples on their website which outline the type of urgent situations that meet the criteria for this expedited service.
Here are the types of situation where an application to speed things along may be granted by OPG:
The granter has subsequently lost capacity and urgent decisions require to be made;
The granter has been admitted to hospital and urgent action requires to be taken;
The granter requires to be moved from hospital with a care package or into a care home;
The granter is at risk of financial harm as they cannot act in their own interest to pay bills, care fees etc. or to undertake a financial assessment following release from hospital.
If a power of attorney has been sent to OPG for registration and the situation becomes urgent, it is possible to send an email to OPG to ask them to treat the application as urgent given the changed circumstances.
Where a request to treat registration as urgent is granted, the power of attorney will be processed within 5 working days. OPG will send out an acknowledgement confirming if the request has been refused.
How we can help
If you have any questions arising from the information on this page, feel free to get in touch with us and we'll do our best to help.
Phone us on 01343 544077 or send us a Free Online Enquiry via this website.