The Association of Personal Injury Lawyers (APIL) has launched a guide to personal injury compensation in the form of a colourful 24-page eBooklet – entitled "Compensation Explained".
It is intended to explain the purpose and method of calculation of compensation, as well as its value to society.
It's easy to overlook the harsh realities for someone who needs help after an injury.
After all, none of us plans to be injured and, fortunately, few of us will end up in that situation.
However, as we all like to think that we live in a modern, caring society, APIL argues that it is reasonable to expect that someone who is injured as the result of another's failure to take proper care:
should not have to suffer any further, and
should not lose out financially as a consequence of their injuries.
The booklet begins with a section explaining the different things that can go to make up personal injury compensation.
This includes:
the pain and suffering associated with the injuries;
past and future loss of earnings;
past and future care and expenses.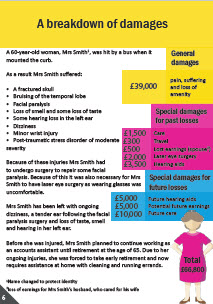 There's a useful practical example – which breaks down an award of compensation into its constituent values – of a 60-year-old woman who was injured by a bus which mounted the kerb and suffered multiple injuries, both physical and psychological.
The summary helps you see what could be claimed for and how much each part was worth. The main injury – a fractured skull – had a lot of significant ongoing consequences (e.g. loss of smell, some loss of taste, and hearing loss in one ear). At £39,000, the injury forms the bulk of the overall award of £66,800.
Some "unusual" elements in the claim include: the cost of hearing aids (both past and future) and the cost of laser eye surgery.
The booklet goes on to deal with various (potentially controversial) FAQs.
These cover issues which include:
whether injury victims basically just need to "get on with it";
why not every accidental injury can base a claim for compensation;
what are the legal ingredients of a successful claim and why you need to prove both liability and causation.
Further case examples
Further case examples follow – covering cosmetic injuries, slip and trip injuries, catastrophic workplace injuries, whiplash injuries, and psychological injuries.
The last of these discusses the case of a mother whose claim arose out of the death of her infant son. The psychiatric harm she suffered manifests itself in various forms, including flashbacks, nightmares, insomnia, anxiety, emotional detachment, and dissociative amnesia.
Guidelines for valuation of claims
Concentrating on the "pain and suffering" element of claims, the booklet then looks at the standard Guidelines which assist solicitors, insurers and judges in fixing the correct level of compensation for that part of a personal injury claim.
This is not compensation to be used to pay for care or repay actual financial loss; instead, it is essentially an acknowledgment that what occurred should not have occurred.
It's not possible to make the injury "disappear", so money is just about the only way that the wrong can be made right.
Possible areas for reform.
The concluding section of the booklet looks at various areas of personal injury law in which APIL considers that reform is necessary to give injury victims a fairer deal.
With regard to bereavement damages for relatives arising from a loved one's fatal accident, APIL note that Scots Law already has a developed scheme for compensation in relation to fatal accidents which is certainly "fairer" than the approach currently adopted in England and Wales.
You can view and read "Compensation Explained" on the APIL website, either by clicking here or by clicking on the image immediately below.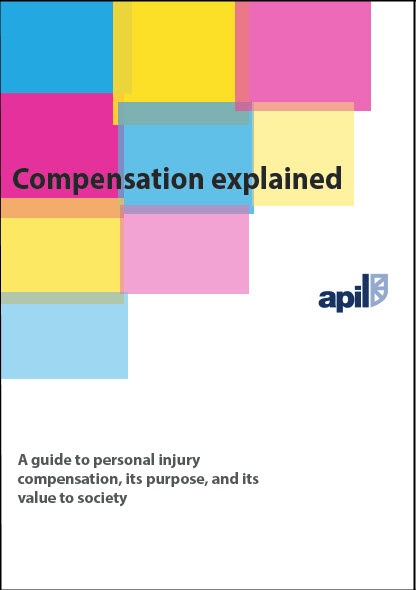 How we can help
If you have any questions arising from this article about APIL's eBooklet – Compensation Explained – please get in touch with us.
Our solicitors at Moray Claims / Grigor & Young, Marie Morrison and Peter Brash, are both accredited by APIL as Senior Litigators. The Elgin branch of Grigor & Young holds corporate accreditation from APIL.
If you need advice regarding a possible personal injury claim, we are happy to help. Like more than 3,000 other APIL members – mainly in the UK but across the world – we are dedicated to APIL's aims of reforming the law, protecting and enhancing access to justice, and improving the services provided for injured people.
Where we are not the best people to help you directly, we will do our best to put you in touch with someone in that category.
Call us on 01343 544077 or send us a Free Online Enquiry.