"Mustard & Young, Scavengers, Elgin".
This is how the firm of Grigor & Young was addressed in a letter from a James Robertson of Nairn in March 1911. (At that time, the partners in Grigor & Young were a Mr Mustard and a Mr Young.)
Acting on behalf of the Provost, Magistrates and Councillors of the Royal Burgh of Forres, Grigor & Young had apparently been trying to recover a debt from Mr Robertson.
There are literally two sides to this story.
On one side of a piece of lined paper is a handwritten note, headed "Nairn, 25th March 1911". It is addressed to: "James Robertson, Esq, Bowling Green, Sea Tarf Merchant and Contractor, 7 Academy Street, Nairn." The note is from a Sheriff Officer to Mr Robertson, telling him that a previous formal request for payment was now withdrawn.
Sir
I hereby intimate to you that the charge served by me upon you on the forenoon on the 20th day of March 1911 at the instance of the Provost, Magistrates and Councillors of the Royal Burgh of Forres incorporated under the Town Councils (Scotland) Act 1900 is hereby withdrawn and departed from.
I am your obedient servant.
John MacKay, Sheriff Officer
Nairnshire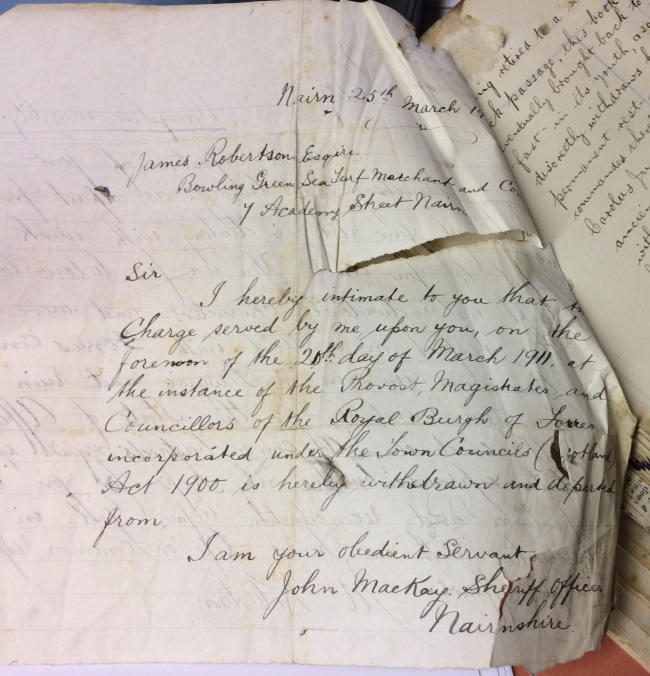 The other side of the story is on the reverse side of the paper, again handwritten – from Mr Robertson to "Mustard & Young". It is not dated but is clearly "in reply" to the withdrawal of charge by the Sheriff Officer. It is a slightly edited version, as you will understand from reading it:
Mustard & Young, Scavengers, Elgin
Morayshire Morality
I send copestone of your profligacy, treachery and lunacy as apart from ignorance of your duty in dealing with work entrusted to your care. You are far below lowest contempt as individual characters – and were only in this respect on a level with Forres consumers of their own ammonia. Disgrace and ruin will follow you inevitably – as the State of Affairs will evidence. Of course b*****ds require extra attention and provision but the only hope for you is repentance and reconciliation before God in further association with an honest life or common respectability in your affairs.
Jas Robertson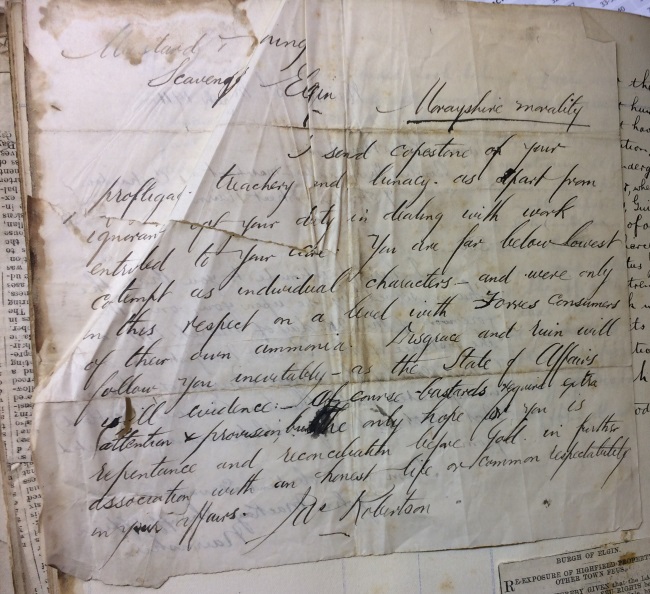 We do not know exactly why this document was retained as part of Grigor & Young's Advertisement Book 1889-1911. Probably it is because, as a letter of complaint, it was a work of art – covering everything from incompetence to poor character.
Letters of complaint can still have an important and powerful part to play today, of course, and one area is in relation to potential medical negligence claims.
Claims for medical negligence are difficult.
We have discussed elsewhere the problems with medical negligence claims.
These problems are, firstly, the test for negligence (which is different – and harder to satisfy – in medical negligence than the test for ordinary negligence) and, secondly, the problem of cost.
No win-no fee is not generally viable for medical negligence claims. Because of the general difficulties and, especially, the issue of cost, it makes sense to use all available free methods of investigating a potential claim.
In this article, we will consider 3 possible benefits of making a formal complaint before making a claim for medical negligence.
Why should you make a formal complaint (e.g to the Health Board concerned) before considering claiming for medical negligence?
Firstly, it might help your possible compensation claim.
It might result in you finding out information which will be helpful later in the context of a medical negligence claim. Or it might reveal details which help you understand how what happened was not down to any fault of a person or of "the system".
Secondly, it gives you time to reflect.
The process should take a finite period – say, 6 months – and at the end of that time you will be better informed about what happened. The distance that gives you in space and time from the medical "event" that harmed you will give you a chance to know better how you feel about it.
Have you come to terms with it? Are you as upset/angry as you were – or even more so than at the beginning of the process?
Whatever your feelings, it will help you know better whether you want to proceed with investigating the possibility of a claim for medical negligence or not.
Thirdly, the order in which you do things matters here.
You cannot make a formal complaint and a claim for medical negligence simultaneously.
As soon as any claim for medical negligence is intimated via a solicitor, all formal complaint options are closed off. This is why, if you can, you need to make a formal complaint first and, only after that is complete, a medical negligence claim. In our experience, you cannot make a claim for medical negligence and then decide to make a formal complaint later.
You also need to keep an eye on time.
Medical negligence claims are subject to the same 3-year limitation period that applies to most personal injury claims in Scotland. You need to negotiate a settlement of any claim within the 3 years or raise a court action to keep the claim alive beyond the 3-year deadline. On average, medical negligence claims take longer to investigate than personal injury claims, generally.
If you are within one year of the time bar by the time you instruct a solicitor, it may cause them a logistical headache. No solicitor wants to be "forced" into raising a court action because they are running out of time, least of all in a medical negligence case.
Life is not made any easier by the fact that, in medical negligence cases, it is not always simple to identify the date from which the 3-year period began to run. On the one hand, if your complaint is about a negligent mistake by a surgeon in the course of an operation, the date of surgery will be the start date. On the other hand, if the allegation is that a diagnosis of a serious illness was missed by a doctor, the "beginning" date of that failure may not be so easily identified.
Summary
The main benefit of making a formal complaint about medical treatment you consider was unacceptable is that it makes you better-informed. It is not necessary to be abusive or attack anyone's character – in "Mustard & Young, Scavengers, Elgin" fashion – no matter how skilfully you may be able to frame your grievance.
Any information you obtain might be helpful in the context of a later claim for medical negligence. The information might also help you come to terms with what has happened to you – which may make you more likely to consider claiming compensation for medical negligence but it may also result in you deciding not to claim. Whatever you choose to do, an informed choice is always going to be one you are more likely to feel comfortable about.
There are a couple of practical issues:
If you're going to make a formal complaint, you have to do that first – before any medical negligence claim. It does not work the other way round.
You need to keep the likely 3-year time bar for a medical negligence claim in mind. You might not have time to make a formal complaint and then still leave any solicitor a realistic amount of time to investigate a medical negligence claim. If in doubt, speak to a solicitor before you start any formal complaints procedure.
How we can help
If you have any questions about any matters raised by this article, feel free to contact us for help. All initial enquiries are at no charge and without obligation. You can contact Peter or Marie on 01343 544077 or send us a Free Online Enquiry.
Links you might like
You might find the following articles on our Moray Claims website – in relation to medical / clinical negligence – helpful: